The first winners of the ideas competition for the month of October have been announced!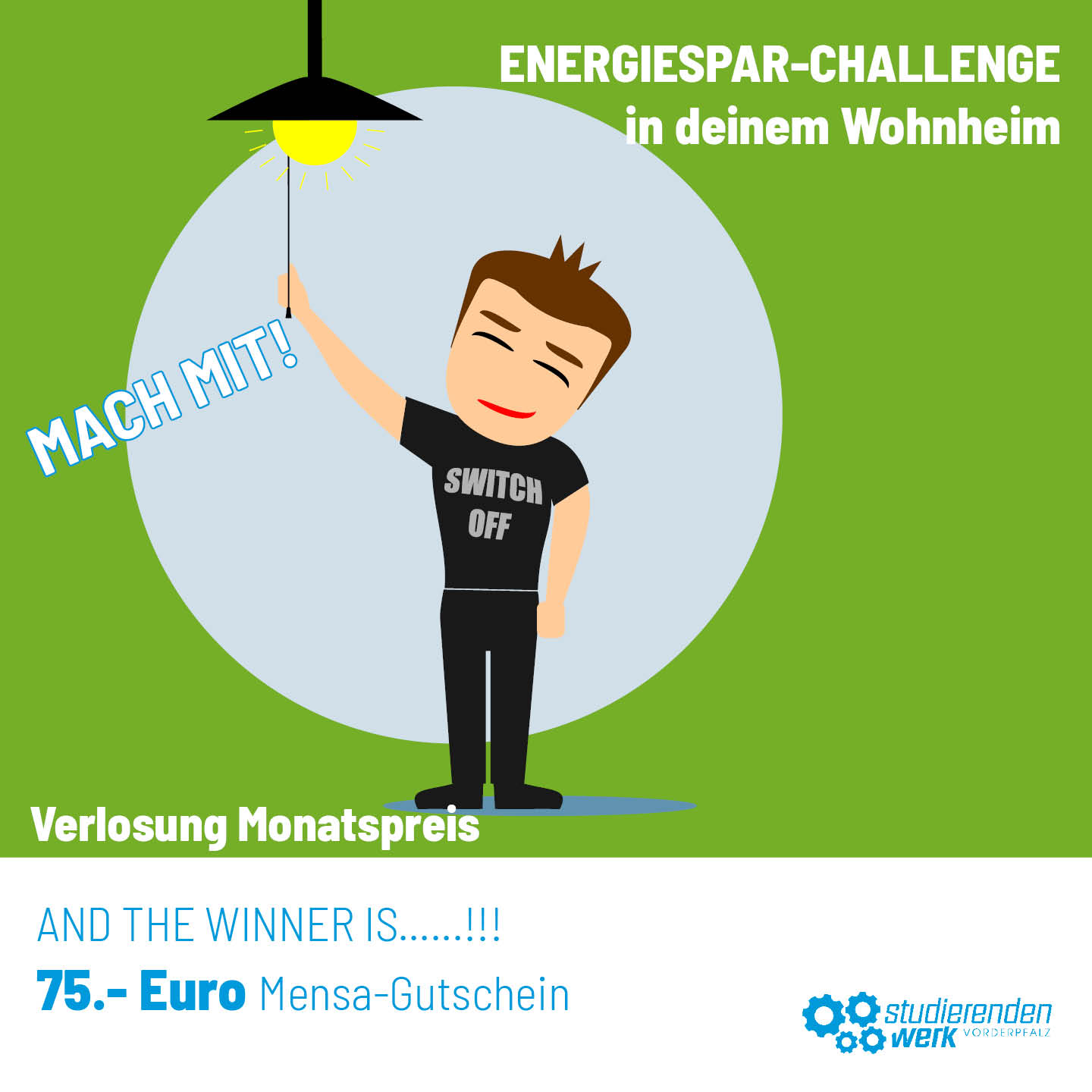 Wow, that was a lot of good ideas for saving energy. A few were also spooky and we strongly advise against watering your houseplants with the well-salted pasta water. Unless you hate houseplants, then fire away! :-)!The first monthly prize of 75 euros goes to a shared flat in Landau. If their ideas are all implemented, they'll be the first shared apartment in Germany to get money back on their utility bills.Stay tuned in November and send us your ideas to
kommunikation@stw-vp.de
, the next monthly prize is waiting for you. We will also be able to publish the first consumption figures from the dorms shortly.
Join your dorm's energy-saving challenge...
... and win a dorm party.From October 1, 2022 to January 31, 2023, all dormitories of the Studierendenwerk and all 971 tenants in Landau, Germersheim, Ludwigshafen and Worms will compete against each other in an "Energy Saving Challenge".Energy is rapidly becoming more expensive, and unfortunately the Studierendenwerk will have to pass on the energy costs to you as a tenant in the future. To save your own money and to keep energy affordable, there is only one sensible way: SAVE ENERGY!So: Saving energy makes ecological, economic and social sense in order to conserve our resources. This should be incentive enough for you to actively participate in our challenge.
And this is how it works:
Inform yourself about sensible, energy-saving behavior. Good tips can be found here.
Be energy conscious and turn off the lights, turn off the heat when ventilating, unplug your standby appliances, etc. pp....
Help others in the dorm with energy saving behaviors as well. Saving energy starts with everyone, but only works together!
Let us know at wohnen@stw-vp.de if you notice any very obvious energy waste in the shared spaces of the dorm.
Share your ideas with us at kommunikation@stw-vp.de if you think of something to save energy. We'll invite the best four ideas to a month of free dining hall credit. (75 euros credit on your student ID card). We'll give away one top-up each month.
We will evaluate the kilowatt consumption per capita in all dormitories every month starting in October and give you the current status of the challenge every four weeks. Either via email, here on this page, and on our social media channels.
Who wins the thing
.
The winner will be the dorm that has saved the most kilowatt hours per capita, on a percentage basis, over the four-month period beginning in October 2022.
And the prize?
The prize for the winning dorm in the Challenge is a party for the entire dorm. You and your dorm will determine the location and time together starting in February 2023.Follow us for updates on the Challenge on our social media channels at:
Saving energy can only be done in solidarity and for that we need you!At the beginning of November you will find the first ranking of the challenge here on this page and you can always follow where your dorm is.