The Studierendenwerk has a new addition...the cargo bike!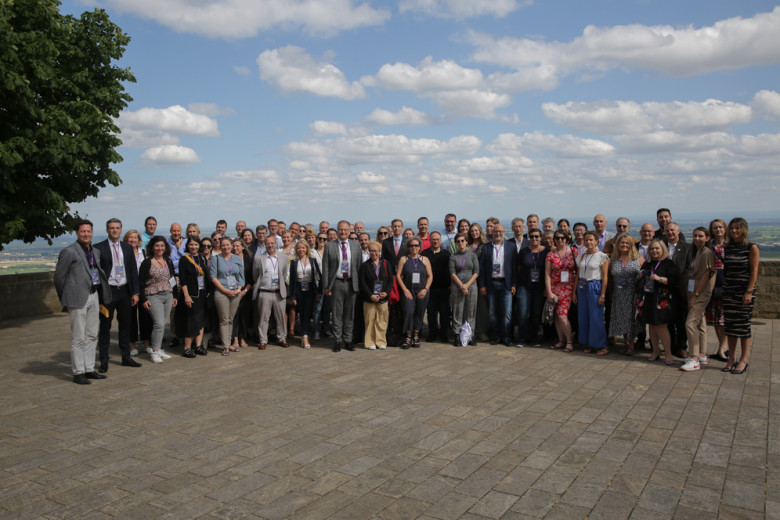 Just before the weekend, we post a few impressions of the esac conference in Neustadt an der Weinstraße.
For us it was three very nice days with you!Of course we hope that you can take home some impulses for your work and wish you a good journey home.
03/10 16:22:21
Counter 1

Oct

03
Closed due to holiday: Day Of German Unity
Regular opening hours:
Lecture period
Lecture-free period
Monday – Thursday 11:30-14:00
Friday 11:30-13:30
Price
(for students)
3.50 €
Counter 2

Oct

03
Closed due to holiday: Day Of German Unity
Regular opening hours:
Lecture period
Lecture-free period
Monday – Thursday 11:30-14:00
Friday 11:30-13:30
Price
(for students)
3.50 €
Extra counter

Oct

03
Closed due to holiday: Day Of German Unity
Regular opening hours:
Lecture period
Lecture-free period
Monday – Thursday 11:30-14:00
Friday 11:30-13:30
Price
(for students)
3.50 €
Counter 1

Oct

04
Soup of the day
Fries
Rice
Mixed vegetables
Dessert selection
Show additives
Opening hours:
Lecture period
Lecture-free period
Monday – Thursday 11:30-14:00
Friday 11:30-13:30
Price
(for students)
3.50 €
Additives
2

Preserving agents

3

Antioxidant agent

Ei

Egg

Gl

Gluten

ML

Milk/lactose

S

Pork

Sn

Mustard

So

Soy
Counter 2

Oct

04
Soup of the day
mensaVital
Vegetable couscous
(Gl,Se)
Guacamole Dip
Dessert selection
Show additives
Opening hours:
Lecture period
Lecture-free period
Monday – Thursday 11:30-14:00
Friday 11:30-13:30
Price
(for students)
3.50 €
Additives
1

Colorant

Gl

Gluten

ML

Milk/lactose

Nu

Nuts

Se

Celery

So

Soy
Opening hours
Lecture period
Lecture-free period
Cafeteria
Fair coffee, delicious rolls and something sweet for in between
Opening hours
Lecture period
Lecture-free period
08:00 - 4:00pm, Friday till 2:00pm
Counter 1

Oct

05
Soup of the day
Brown rice
Mixed vegetables
Dessert selection
Show additives
Opening hours:
Lecture period
Lecture-free period
Monday – Thursday 11:30-14:00
Friday 11:30-13:30
Price
(for students)
3.50 €
Additives
3

Antioxidant agent

Gl

Gluten

ML

Milk/lactose

R

Beef

Sn

Mustard

So

Soy
Counter 2

Oct

05
Soup of the day
Quinoa pea meatball
Brown rice
Green beans
Dessert selection
Show additives
Opening hours:
Lecture period
Lecture-free period
Monday – Thursday 11:30-14:00
Friday 11:30-13:30
Price
(for students)
3.50 €
Additives
1

Colorant

Ei

Egg

Gl

Gluten

ML

Milk/lactose

Se

Celery

Sn

Mustard

So

Soy
Opening hours
Lecture period
Lecture-free period
Cafeteria
Fair coffee, delicious rolls and something sweet for in between
Opening hours
Lecture period
Lecture-free period
08:00 - 4:00pm, Friday till 2:00pm
Counter 1

Oct

06
Soup of the day
Sugared pancake with applesauce
(3,Gl,Ei,ML)
Dessert selection
Show additives
Opening hours:
Lecture period
Lecture-free period
Monday – Thursday 11:30-14:00
Friday 11:30-13:30
Price
(for students)
3.50 €
Additives
3

Antioxidant agent

Ei

Egg

Er

Peanuts

Gl

Gluten

ML

Milk/lactose
Counter 2

Oct

06
Soup of the day
Sweet potatoe pan with red pepper
(1,Gl,Sn)
Dessert selection
Show additives
Opening hours:
Lecture period
Lecture-free period
Monday – Thursday 11:30-14:00
Friday 11:30-13:30
Price
(for students)
3.50 €
Additives
1

Colorant

Ei

Egg

Er

Peanuts

Gl

Gluten

ML

Milk/lactose

Sn

Mustard
Opening hours
Lecture period
Lecture-free period
Cafeteria
Fair coffee, delicious rolls and something sweet for in between
Opening hours
Lecture period
Lecture-free period
08:00 - 4:00pm, Friday till 2:00pm
Counter 1

Oct

09
Soup of the day
Meat steak with fried onions
(R,S,Gl,Ei,So,ML,Se,Sn)
Rice
Carrots
Dessert selection
Show additives
Opening hours:
Lecture period
Lecture-free period
Monday – Thursday 11:30-14:00
Friday 11:30-13:30
Price
(for students)
3.50 €
Additives
1

Colorant

Ei

Egg

Gl

Gluten

ML

Milk/lactose

R

Beef

S

Pork

Se

Celery

Sn

Mustard

So

Soy
Counter 2

Oct

09
Soup of the day
Tortelloni with arugula sauce
(8,Gl)
Carrots
Dessert selection
Show additives
Opening hours:
Lecture period
Lecture-free period
Monday – Thursday 11:30-14:00
Friday 11:30-13:30
Price
(for students)
3.50 €
Additives
1

Colorant

Ei

Egg

Gl

Gluten

ML

Milk/lactose

Sn

Mustard

So

Soy
Opening hours
Lecture period
Lecture-free period
Cafeteria
Fair coffee, delicious rolls and something sweet for in between
Opening hours
Lecture period
Lecture-free period
08:00 - 4:00pm, Friday till 2:00pm
Counter 1

Oct

10
Soup of the day
Chicken breast hawaiian
(G,ML)
French fries macaire
(Gl)
Dessert selection
Show additives
Opening hours:
Lecture period
Lecture-free period
Monday – Thursday 11:30-14:00
Friday 11:30-13:30
Price
(for students)
3.50 €
Additives
1

Colorant

3

Antioxidant agent

Ei

Egg

G

Poultry

Gl

Gluten

ML

Milk/lactose

Nu

Nuts

Sn

Mustard

So

Soy
Counter 2

Oct

10
Soup of the day
Millet pan with zucchini, peppers, apples and pumpkin seeds
Dessert selection
Show additives
Opening hours:
Lecture period
Lecture-free period
Monday – Thursday 11:30-14:00
Friday 11:30-13:30
Price
(for students)
3.50 €
Additives
1

Colorant

ML

Milk/lactose

Sn

Mustard
Opening hours
Lecture period
Lecture-free period
Cafeteria
Fair coffee, delicious rolls and something sweet for in between
Opening hours
Lecture period
Lecture-free period
08:00 - 4:00pm, Friday till 2:00pm
Counter 1

Oct

11
Soup of the day
mensaVital
Fiery vegetable and beef curry with noodles
(R,Gl,Kr,So,We)
Dessert selection
Show additives
Opening hours:
Lecture period
Lecture-free period
Monday – Thursday 11:30-14:00
Friday 11:30-13:30
Price
(for students)
3.50 €
Additives
Gl

Gluten

Kr

Crustaceans

ML

Milk/lactose

R

Beef

Sn

Mustard

So

Soy

We

Mollusks
Counter 2

Oct

11
Soup of the day
mensaVital
Savory sesame noodles with asian pan vegetables
(3,Gl,Er,So,Sa)
Dessert selection
Show additives
Opening hours:
Lecture period
Lecture-free period
Monday – Thursday 11:30-14:00
Friday 11:30-13:30
Price
(for students)
3.50 €
Additives
1

Colorant

3

Antioxidant agent

Er

Peanuts

Gl

Gluten

ML

Milk/lactose

Sa

Sesame

Sn

Mustard

So

Soy
Opening hours
Lecture period
Lecture-free period
Cafeteria
Fair coffee, delicious rolls and something sweet for in between
Opening hours
Lecture period
Lecture-free period
08:00 - 4:00pm, Friday till 2:00pm
Counter 1

Oct

12
Soup of the day
Breaded pork escalope
(S,Gl,Ei)
Fries
Cauliflower
Dessert selection
Show additives
Opening hours:
Lecture period
Lecture-free period
Monday – Thursday 11:30-14:00
Friday 11:30-13:30
Price
(for students)
3.50 €
Additives
2

Preserving agents

3

Antioxidant agent

Ei

Egg

Gl

Gluten

ML

Milk/lactose

Nu

Nuts

S

Pork

Sn

Mustard

So

Soy
Counter 2

Oct

12
Soup of the day
mensaVital
Sweet potato, coconut and soy curry with tomate bulgur
(Gl,So)
Dessert selection
Show additives
Opening hours:
Lecture period
Lecture-free period
Monday – Thursday 11:30-14:00
Friday 11:30-13:30
Price
(for students)
3.50 €
Additives
1

Colorant

3

Antioxidant agent

Ei

Egg

Gl

Gluten

ML

Milk/lactose

Nu

Nuts

Sn

Mustard

So

Soy
Opening hours
Lecture period
Lecture-free period
Cafeteria
Fair coffee, delicious rolls and something sweet for in between
Opening hours
Lecture period
Lecture-free period
08:00 - 4:00pm, Friday till 2:00pm
Counter 1

Oct

13
Soup of the day
Whiting filet
(Gl,Fi,ML,Sn)
Remoulade sauce
(1,3,9,Gl,Ei,ML,Sn)
Broccoli
Dessert selection
Show additives
Opening hours:
Lecture period
Lecture-free period
Monday – Thursday 11:30-14:00
Friday 11:30-13:30
Price
(for students)
3.50 €
Additives
1

Colorant

3

Antioxidant agent

9

Sweetener

Ei

Egg

Er

Peanuts

Fi

Fish

Gl

Gluten

ML

Milk/lactose

Sn

Mustard
Counter 2

Oct

13
Soup of the day
Risotto with barley and mixed vegetables
(Gl)
Dessert selection
Show additives
Opening hours:
Lecture period
Lecture-free period
Monday – Thursday 11:30-14:00
Friday 11:30-13:30
Price
(for students)
3.50 €
Additives
Ei

Egg

Er

Peanuts

Gl

Gluten

ML

Milk/lactose

Sn

Mustard
Opening hours
Lecture period
Lecture-free period
Cafeteria
Fair coffee, delicious rolls and something sweet for in between
Opening hours
Lecture period
Lecture-free period
08:00 - 4:00pm, Friday till 2:00pm
Counter 1

Oct

16
Soup of the day
Chicken cordon bleu
(2,G,Gl,ML,Se)
Capsicum vegetables
Dessert selection
Show additives
Opening hours:
Lecture period
Lecture-free period
Monday – Thursday 11:30-14:00
Friday 11:30-13:30
Price
(for students)
3.50 €
Additives
2

Preserving agents

G

Poultry

Gl

Gluten

ML

Milk/lactose

Se

Celery

Sn

Mustard

So

Soy
Counter 2

Oct

16
Soup of the day
mensaVital
Spicy pumpkin vegetables with lentils and arugula on penne
(Gl)
Dessert selection
Show additives
Opening hours:
Lecture period
Lecture-free period
Monday – Thursday 11:30-14:00
Friday 11:30-13:30
Price
(for students)
3.50 €
Additives
1

Colorant

Ei

Egg

Gl

Gluten

ML

Milk/lactose

Sn

Mustard

So

Soy
Opening hours
Lecture period
Lecture-free period
Cafeteria
Fair coffee, delicious rolls and something sweet for in between
Opening hours
Lecture period
Lecture-free period
08:00 - 4:00pm, Friday till 2:00pm
Counter 1

Oct

17
Soup of the day
Pork escalope
(cutlet)
with cheese crust
(2,S,Gl,Ei,ML)
Cauliflower
Dessert selection
Show additives
Opening hours:
Lecture period
Lecture-free period
Monday – Thursday 11:30-14:00
Friday 11:30-13:30
Price
(for students)
3.50 €
Additives
1

Colorant

2

Preserving agents

Ei

Egg

Gl

Gluten

ML

Milk/lactose

Nu

Nuts

S

Pork

Sn

Mustard

So

Soy
Counter 2

Oct

17
Soup of the day
mensaVital
Chick-pea vegetable curry with basmati rice
Dessert selection
Show additives
Opening hours:
Lecture period
Lecture-free period
Monday – Thursday 11:30-14:00
Friday 11:30-13:30
Price
(for students)
3.50 €
Additives
1

Colorant

Gl

Gluten

ML

Milk/lactose

Nu

Nuts

Sn

Mustard

So

Soy
Opening hours
Lecture period
Lecture-free period
Cafeteria
Fair coffee, delicious rolls and something sweet for in between
Opening hours
Lecture period
Lecture-free period
08:00 - 4:00pm, Friday till 2:00pm
Counter 1

Oct

18
Soup of the day
Bolognese sauce and parmesan
(2,R,Gl,Ei,So,ML)
Mixed vegetables
Dessert selection
Show additives
Opening hours:
Lecture period
Lecture-free period
Monday – Thursday 11:30-14:00
Friday 11:30-13:30
Price
(for students)
3.50 €
Additives
2

Preserving agents

Ei

Egg

Gl

Gluten

ML

Milk/lactose

R

Beef

Sn

Mustard

So

Soy
Counter 2

Oct

18
Soup of the day
Mixed vegetables
Dessert selection
Show additives
Opening hours:
Lecture period
Lecture-free period
Monday – Thursday 11:30-14:00
Friday 11:30-13:30
Price
(for students)
3.50 €
Additives
Ei

Egg

Er

Peanuts

Gl

Gluten

ML

Milk/lactose

Sn

Mustard
Opening hours
Lecture period
Lecture-free period
Cafeteria
Fair coffee, delicious rolls and something sweet for in between
Opening hours
Lecture period
Lecture-free period
08:00 - 4:00pm, Friday till 2:00pm
Counter 1

Oct

19
Soup of the day
Fries
Mixed vegetable
Dessert selection
Show additives
Opening hours:
Lecture period
Lecture-free period
Monday – Thursday 11:30-14:00
Friday 11:30-13:30
Price
(for students)
3.50 €
Additives
2

Preserving agents

3

Antioxidant agent

Ei

Egg

G

Poultry

Gl

Gluten

ML

Milk/lactose

Sn

Mustard

So

Soy
Counter 2

Oct

19
Soup of the day
mensaVital
Oriental vegetable pan with tender wheat and roasted sesame
(Gl,So,Sa)
Dessert selection
Show additives
Opening hours:
Lecture period
Lecture-free period
Monday – Thursday 11:30-14:00
Friday 11:30-13:30
Price
(for students)
3.50 €
Additives
Gl

Gluten

ML

Milk/lactose

Sa

Sesame

Sn

Mustard

So

Soy
Opening hours
Lecture period
Lecture-free period
Cafeteria
Fair coffee, delicious rolls and something sweet for in between
Opening hours
Lecture period
Lecture-free period
08:00 - 4:00pm, Friday till 2:00pm
Counter 1

Oct

20
Soup of the day
Salmon on Spinach
(Ei,Fi,ML,Se)
Boiled potatoes
Dessert selection
Show additives
Opening hours:
Lecture period
Lecture-free period
Monday – Thursday 11:30-14:00
Friday 11:30-13:30
Price
(for students)
3.50 €
Additives
Ei

Egg

Er

Peanuts

Fi

Fish

ML

Milk/lactose

Nu

Nuts

Se

Celery

Sn

Mustard

So

Soy
Counter 2

Oct

20
Soup of the day
Beetroot gnocchi with mushrooms, peas and pepper
(Gl)
Dessert selection
Show additives
Opening hours:
Lecture period
Lecture-free period
Monday – Thursday 11:30-14:00
Friday 11:30-13:30
Price
(for students)
3.50 €
Additives
Gl

Gluten

ML

Milk/lactose

Sn

Mustard

So

Soy
Opening hours
Lecture period
Lecture-free period
Cafeteria
Fair coffee, delicious rolls and something sweet for in between
Opening hours
Lecture period
Lecture-free period
08:00 - 4:00pm, Friday till 2:00pm
Legend icons
Beef
Pork
Poultry
Fish
Mixed Meat
Lamb
Vegan
Vegetarian