Office hours currently only in the afternoon
Please note
: our office hours are limited to the afternoon. If you leave us a message on the answering machine, we will get back to you as soon as possible. You can find all contact information by clicking on your dormitory below.
Attention
: The recharging of your student ID (e.g. for washing tokens) takes place in the main administration building at Fortstraße 7. Since the building is not freely accessible due to Corona, please call our Infopoint (
06341-91790
) so that you can be let in.
The info point is always open Mon. - Thurs. from 10 am - 1 pm and Fri. from 9 am - 12 pm.
Living at your place of study - close to the university, comfortable and affordable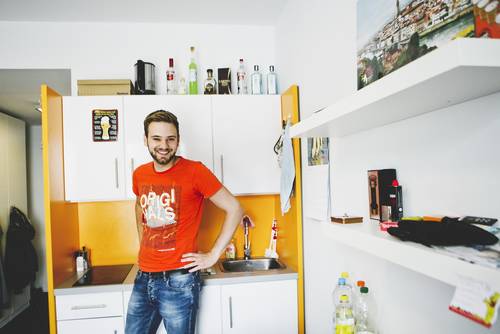 More than 900 students find affordable accommodation in our residences in Landau, Ludwigshafen, Worms and Germersheim. Each of our student residences has a housekeeper, who takes care of any tenant concerns and arranges all necessary repairs and maintenance work.In addition, we have our WoTus (student tutor), who work and live in our dormitories, and are available to answer any questions their new flatmates may have about living there.Details on furnishings, floor plans, photos, application deadlines and modalities, can be found at the individual study locations. Below you will find information to all the dormitorys, also details on furnishings, floor plans, photos, application deadlines and modalities. The Student Housing Department wishes you every success and a good start in your new city.Are you already sure which residence you want to apply for? Than you can apply for a place in a dormitory here
(more infos to each dormitory see below)You didn't get a dorm room from us? Then you can look for a private apartment at our
+ Cause of the Corona-Situation, the private accomodation service is offline until further notice +
You are looking for tips and need ideas where else you could look for a roof over your head? Then click on our
You already live with us and something doesn't work or is broken? Then get in touch with us! Just use the digital damage report!